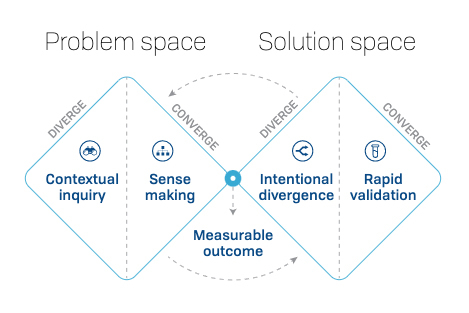 The double diamond
We believe the best way to make significant improvements to patient health, clinician experience, and care delivery is to experiment quickly at low cost - scaling only once we find high impact solutions. Most successful innovations differ substantially from where they started. Since getting it right the first time is rare, small, quick tests are required before system-wide implementation.
Employing a scientific approach toward creating, evaluating, and implementing new ideas helps us learn faster and at lower cost what works and what doesn't. The iterative and agile approach we use to apply design thinking to care delivery has four components that alternate between divergent and convergent action. This approach is represented by the double diamond.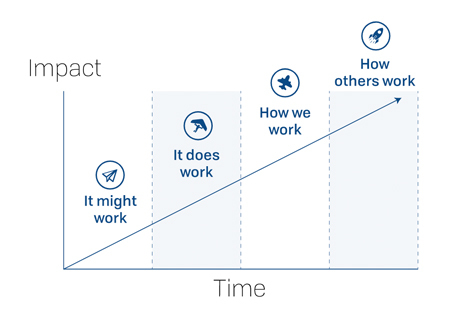 A disciplined process for creating new value
Projects at the Acceleration Lab move through four phases of work with the ultimate goal of bringing successful innovations to scale.
Phase one: it might work
In phase one, we work to gain a deep understanding of the problem or opportunity space, rapidly test potential solutions, and generate early evidence that we can move the needle. Learning what not to do in phase one is a success as long as we've done so quickly and at low cost. Sometimes this is called "failing fast and cheap." Efficiently invalidating hypotheses helps to create a culture of experimentation that enables organizations to succeed.
Phase two: It does work
In phase two, we move from conducting small experiments to testing at a level of scale that will produce the evidence needed for operational stakeholders to invest in the solution. We also work to articulate a business model that demonstrates a clear return on investment.
Phase three: How we work
In phase three, we leverage the knowledge, metrics, and momentum from previous phases to secure funding and support for the solution at scale. Projects graduate when a sustainable infrastructure for the solution is implemented at Penn Medicine.
Phase four: How others work
In phase four, we seek to energize and catalyze other health systems to adopt successful innovations.
Innovation Toolkit
The process of innovation is an iterative and conditional one. Where you start, what tools you use, and when you use them will depend greatly on the context of the problem space, who is on your project team, and your access to users and stakeholders. The double diamond framework and the tools highlighted below are a collection of ingredients rather than a linear or rigid recipe for success.
As you move through the innovation process, you will find yourself balancing convergent and divergent thinking and understanding problems and solutions simultaneously. We hope you find this toolkit to be a helpful resource and that you reference it often to help inspire and guide successful innovation.