Jency Daniel, MSN, DNP
Jency Daniel is a senior innovation manager at the Acceleration Lab. In this role, she leads projects that utilize information technology tools that can serve as a crucial interface between patients and clinicians. She is also passionate about the clinician experience at the point of care and focuses on streamlining workflows using evidence-based practices. Being a nurse, she believes that nurse empowerment is key to challenging the status quo in health care delivery and improving patient outcomes. As a result, her evidence-based doctoral capstone project focused on piloting a practice-based shared governance nurse council in ambulatory care in the Heart and Vascular Center (HVC) at the Perelman Center for Advanced Medicine (PCAM).
Jency began her nursing career in 2001 in India and moved to the U.S. in 2007. Since joining Penn Medicine in August 2010, she has assumed increasingly complex roles in the health system. She started as an RN in the Cardiac Intensive Care Unit and, in 2014, became part of the PennChart implementation project. As a clinical analyst with Corporate IS, she was instrumental in strategizing and designing several PennChart workflows. Key projects included Comprehensive Critical Care Rounding Report, Code Status Redesign, Nurse Driven Universal Screening Assessment for inpatients, and the CMS certification for inpatients. In 2019, she joined the HVC at PCAM as a clinical manager, providing oversight of daily clinical operations for the fast-paced, high-volume center.
Jency received her bachelor's degree in nursing from SNDT University, Mumbai, her master's degree in nursing from Holy Family University, and graduated with her doctor of nursing practice from Thomas Jefferson University in August 2021. She continues to serve as a member of CPUP's Grand Rounds Steering Committee and is a member of the American Organization of Nursing Leadership.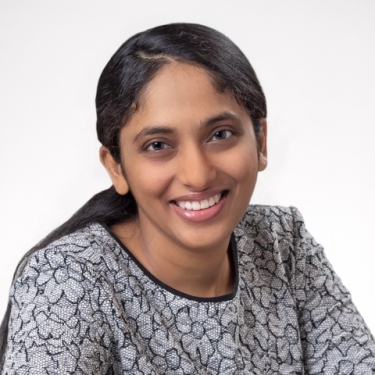 Passion areas
Establishing a consistent structure for nurse empowerment in ambulatory care.
Favorite project outcome
Designing nurse driven pneumococcal ordering as part of the USA project. The design provided a 380 percent increase in ordering Prevnar 13 (high-risk patients) versus Pneumovax within five months of go-live.
Wish for the future of health and medicine
Integrated systems providing high reliability care
Favorite travel destination
Little known fact about me
I love baking but never follow the recipe.
Favorite downtime activity
Spending time with family, painting, and gardening